Food & Dairy Processing Fans
Dairy and Food Processing Industry Fan Applications
Dairy and food processing industry manufacturers use industrial centrifugal fans throughout their operations for applications ranging from general ventilation, supply, and exhaust to combustion, drying, heating, cooling, dust collection, and air filtration.
What's unique about dairy and food processing industry applications is that it requires many additional considerations to make all or part of the system food grade as designated by the US FDA. That affects design decisions from materials of construction and welding requirements to custom coatings and treatments.
Your application environment and airflow will determine your dairy and food processing industry application fan selection and specifications.
Primary Dairy and Food Processing Industry Sectors
Within the dairy and food processing industry, there are many subsectors, including:
Animal Food Manufacturing
Animal Slaughtering and Processing
Bakeries and Tortilla Manufacturing
Fruit and Vegetable Preserving and Specialty Food Manufacturing
Grain and Oilseed Milling
Other Food Manufacturing
Seafood Product Preparation and Packaging
Sugar and Confectionery Product Manufacturing
Dairy Product Manufacturing
Butter
Cheese
Condensed Milk
Dry Milk Products
Fluid Beverage Milk
Ice Cream
Whey Products
Yogurt
Dairy and Food Processing Industry Fan Selection & Specification
Because centrifugal fans are prominent at many points in and around dairy and food processing industry applications, virtually any of our fans could be used in one or more ways as supply air, exhaust air, combustion air, process heating air, or process cooling air. Select and design your fans based on function, flow, and pressure. Here's a quick overview of the top fans for each main function:
Supply Fans
Backward Curved (BCHS)
Backward Inclined (BIHS)
Exhaust Fans
Industrial Exhauster Paddle Wheel (IEPW / IEFB)
Radial Tipped (RTHS)
Process Heating Fans
Plug Fan
High-Pressure Blowers
High-Pressure Radial Open (HPRM / HPRL)
Process Cooling Fans
Backward Inclined (BIHS)
Backward Curved (BCHS)
Combustion Air Blowers
Custom High-Pressure Blowers (HP#S)
High-Pressure Radial Shrouded (HPSM / HPSL)
Backward Curved (BCHS, BCLS, BCMS)
Backward Inclined (BIHS)
High-Pressure Radial Open (HPRM / HPRL)
Fan Arrangements
Fan Arrangements indicate how the motors mount to and drive the fans. The specification will depend on your application and the fan(s) selected.
Dairy and Food Processing Industry-Specific Accessories & Design
When it comes to design and accessories, the focus is around protecting and optimizing operations, maintenance, and life of the fan and bearings. For the food and dairy processing industry, that means many additional considerations to make all or part of the system food grade as designated by the US FDA.
Most dairy and food processing applications require stainless steel fans. For some, only the fan airstream parts are stainless, while others dictate that the entire fan be stainless steel, including the motors and safety guards. They also require a smooth, uniform finish and no threads to avoid catching food and water.
These are not suggestions for many food and dairy fan applications. The USDA and FDA inspect food-grade machinery and are meticulous about these requirements, and the fans are required to pass inspection before startup and operation.
Food Grade Considerations for Dairy & Food Processing Industry Fan Applications
304 or 316 Stainless Steel materials of construction
Glass Bead Blasting to SSPC-SP10 (the highest weld rating) or chemical treatment for removal of weld discoloration
32RA Polishing of the Welds and stainless steel materials for a uniform 32 micro-inch finish
A Simple Epoxy finish for non-stainless steel components
Clean-in-Place (CIP) Nozzles inside the fan housing along with a drain system at the bottom of the housing for cleaning access during use
Stainless Steel Washdown Duty Motor with a Stainless Steel shaft for those requiring all parts in contact with the product be food grade
Ferrule (Sanitary) Drain, Cap & Gasket with no threads
Teflon Fan Seals and Housing Gaskets to provide food-grade sealing capabilities
Flange, Slip Inlet & Slip Outlet allows a flexible boot to connect the fan to the ductwork
Accessory & Design Considerations
Featured Products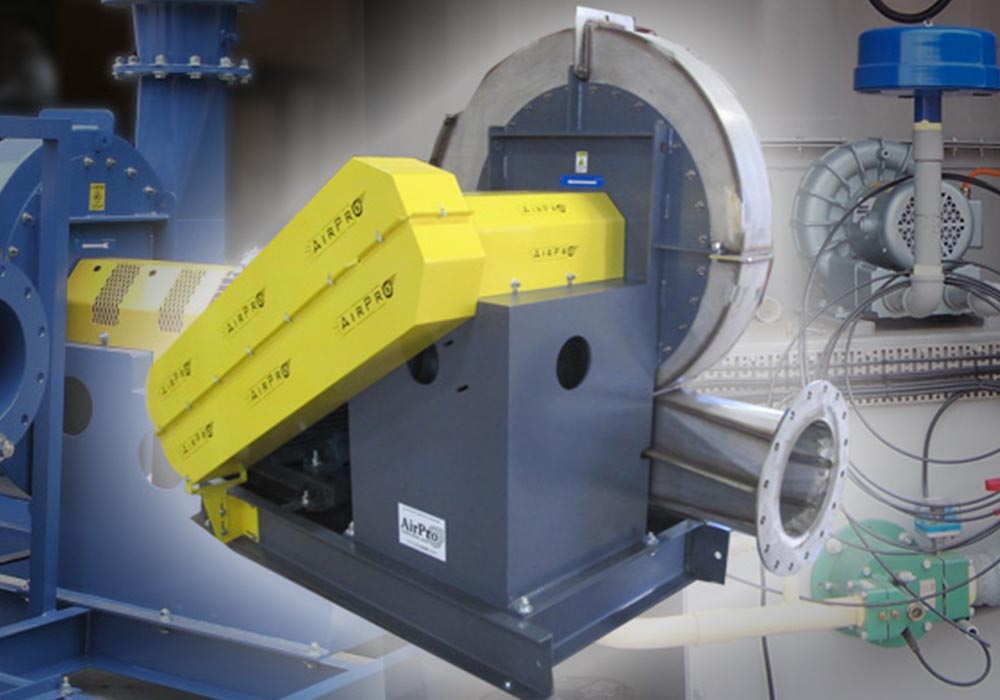 High Pressure Blowers
Learn More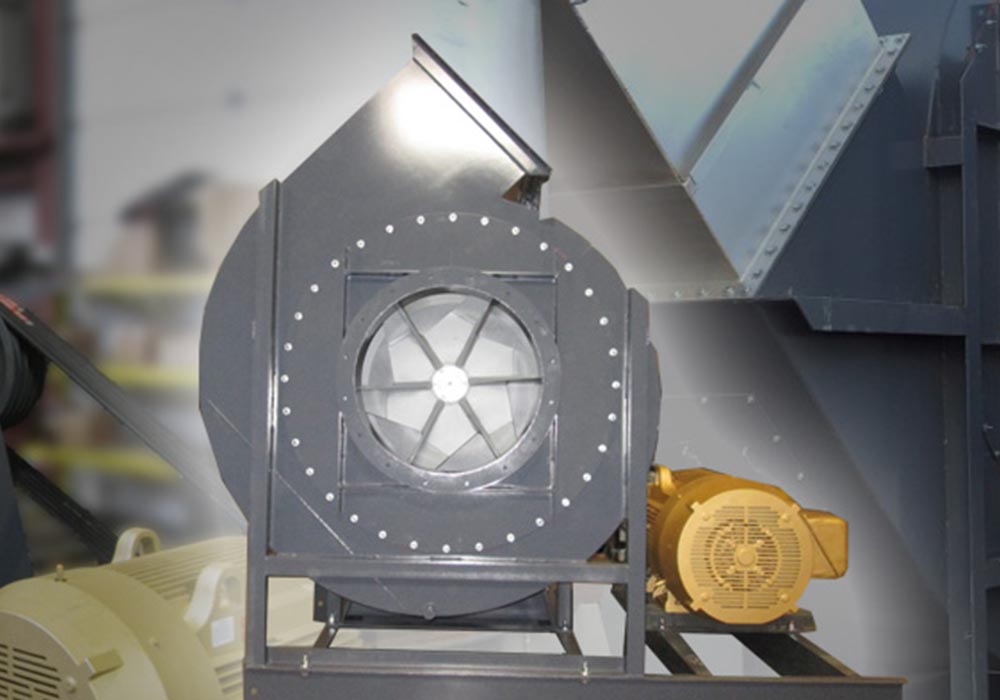 Radial Fans for Material Handling
Learn More
Backward Curved Fans
Learn More
Case Studies
Talk with Our Application Engineers
If you feel overwhelmed by all this information, don't despair! We have a team of application engineers who are happy to talk with you and select the best fan for your application. You can call 715-365-3267, email [email protected], or send us your information, and one of our engineers will connect with you.
Contact Us
AirPro Fan & Blower
Connect With Us