Centrifugal Fans for Industrial Trim Handling Applications
Trim handling is a subset of the broader material handling application. Trim, sometimes called edge trim, refers to the excess material cut off in industrial systems where materials like paper, plastic, and packaging are die-cut and/or processed. In these processes, it's important to prevent the trim from getting stuck in the system and to remove it safely.
There are often two centrifugal fans in a trim handling system. The first is for material conveyance. The fan may operate in conjunction with a grinder or it may serve the function of chopping the material itself, hence the common nickname "cutter fan". It conveys the airstream and particulates through the system to a collection system like a dust collector or a cyclone.
The second fan that may be included in a trim handling application is referred to as a "balance fan" that feeds a dust collector or sits on the clean side of the process to keep the excess airflow moving to prevent the system from over-pressurizing. Although we won't ignore the "balance fan," our primary focus is on material conveyance in this application.
Primary Industries for Trim Handling
The industry of operation is a primary indicator of the application environment and fan function. Many industries require trim handling, including producers and processors of:
Cardboard
Corrugated Board
Facemasks (PPE)
Fiberboard
Film
Recording Tape
Foils
Labels
Laminates
Metals
Mylar
Non-wovens
Nylon fibers
Packaging
Paper
Paperboard
Plastic
Trim Handling Fan Technology Selection & Specification
Because of the material the trim handling conveyor fan is processing, it requires careful specification and design. There are four Open Radial products (also called Paddle Wheel fans or blowers) best-suited for trim handling:
IETW – Radial blades, with a backplate and gussets for additional support and strength. This design is used to convey and exhaust edge trim, such as paper, cardboard, and various metals.
IETX – Extra heavy duty of the IETW model also used for trim removal.
IEPW – An open, radial blade design.
IEFB – Utilizes the same design as the IEPW, but also includes a backplate. The IEFB is provided with arrangement 4, direct-drive fans in order to protect the motor from material entering the fan airstream.
There are several things to consider when choosing the most effective fan technology. The blade design and welding are critical because the trim materials can easily get trapped and clog the system without the right construction.
Situated in the middle of the process, the trim handling fan is responsible for both pulling air and particulates in and pushing them out. They typically require higher-pressure designs that can handle high velocity in the ductwork.
Trim Handling Fan Arrangements
Fan Arrangements specify how the motors mount to and drive the fans. Trim handling conveyor fans typically use an Arrangement 9 belt-drive fan. This is due to the fact that the process can change frequently. The belt drive arrangements provide more range and control so that if the system does get jammed, it's less likely to burn out the motor. It also reduces downtime with easier maintenance. A direct-drive Arrangement 1 motor is also an option.
Arrangement 1 – Belt Drive with an overhung impeller. The fan and motor mount separately to a unitary base.
Arrangement 9 - Belt Drive with an overhung impeller. The motor mounts to the side of the fan pedestal rather than a unitary base to save space.
The Balance Fan typically uses an Arrangement 8 or Arrangement 4 direct-drive motor.
Arrangement 4 – Direct Drive with an overhung impeller. A low-cost arrangement, the fan wheel mounts directly on the motor shaft.
Arrangement 8 – Direct Drive with an overhung impeller. The fan shaft is directly coupled to the motor shaft with a flexible coupling.
Trim Handling Fan Accessories & Design Consideration
The main concern for trim handling applications is to keep the material and air moving. Without the right blade style and design, the trim particulates can easily build up and get clogged, risking costly downtime and even creating a fire hazard. In trim handling applications, we often recommend:
Custom-engineered design for your specific application
Heavy-duty construction for 24×7 operations
Internal "no-snag" finish (completely smooth welds etc.) so the material doesn't get caught up on snag spots
No-snag nose cone to cover the wheel hub in the open radial design
A fully open wheel with no outer grid so nothing can hang on it
Abrasion-Resistant AR400 Carbon Steel for heavier duty material handling applications like metal and aluminum trim
Teflon can potentially help further reduce material buildup
Stainless Steel only on select fans that require food-grade construction
Regular maintenance to ensure the system is clear of buildup
Featured Products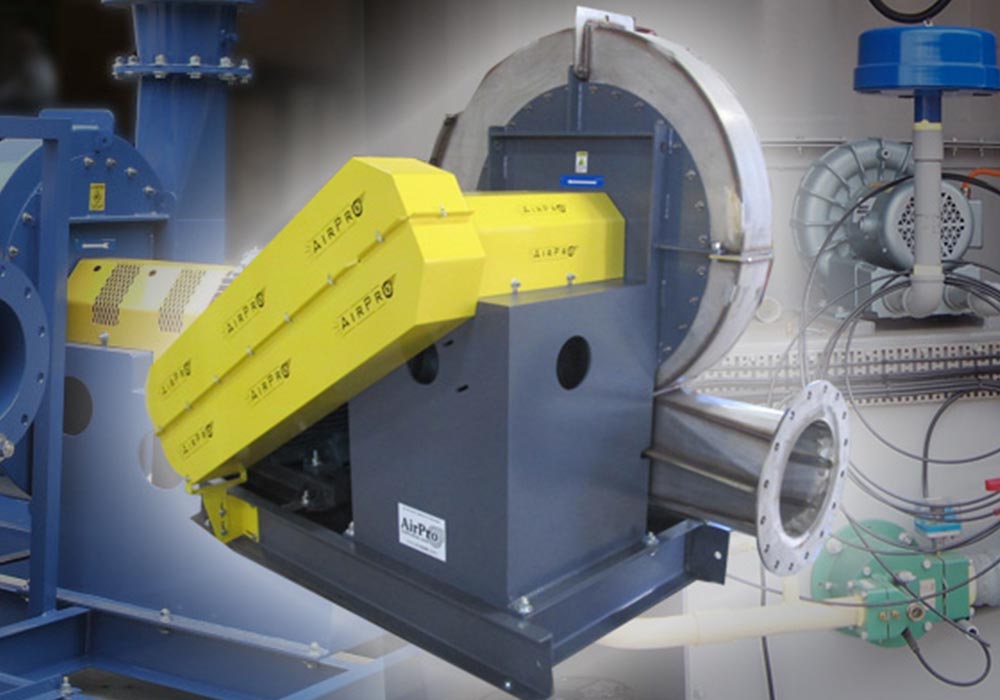 High Pressure Blowers
Learn More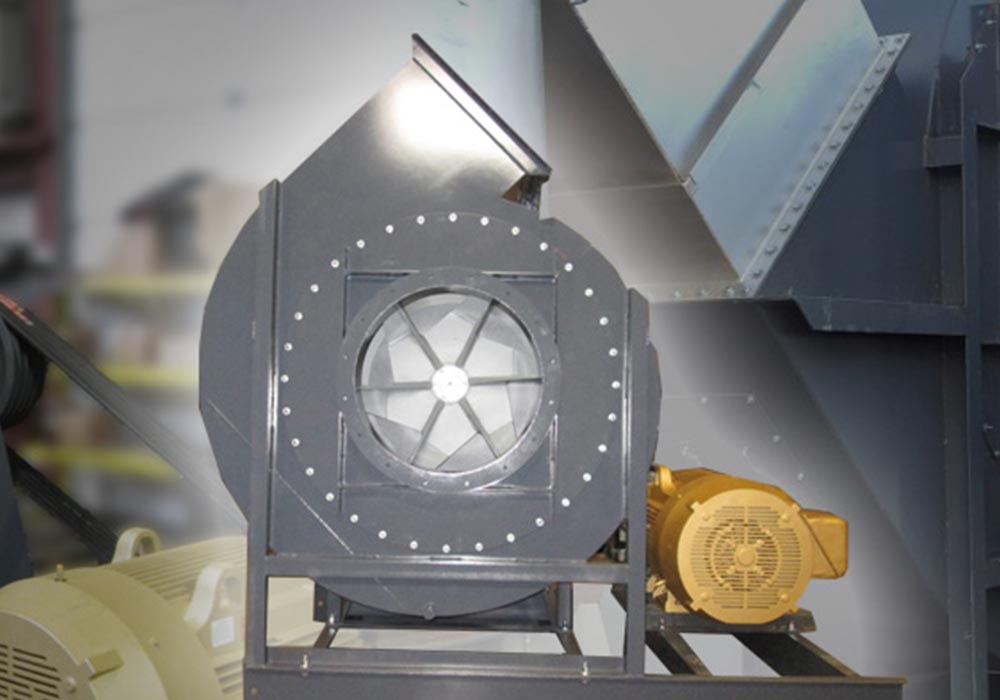 Radial Fans for Material Handling
Learn More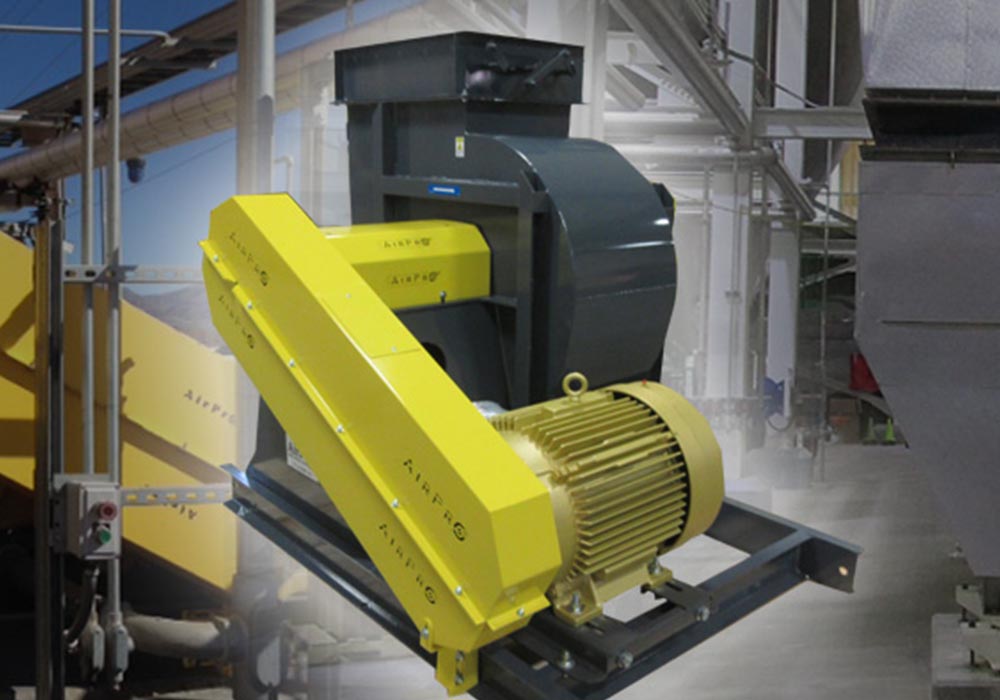 Industrial Exhaust Fans
Learn More
Case Studies
Talk with Our Application Engineers
If you feel overwhelmed by all this information, don't despair! We have a team of application engineers who are happy to talk with you and select the best fan for your application. You can call 715-365-3267, email [email protected], or send us your information, and one of our engineers will connect with you.
Contact Us
AirPro Fan & Blower
Connect With Us