High-Temperature Centrifugal Fans for Industrial Applications
High-temperature process airstreams are conveyed using specially designed high-temperature centrifugal fans that can handle temperatures of up to 1800 degrees F. Many industrial processes rely on high-temperature process heat. High-temperature operations such as heat treating, stress relieving, industrial furnaces, and ovens use convection to circulate heated air within the chamber.
Fans and blowers not properly designed for this purpose will catastrophically fail when used at temperatures above their design.
Your required pressure and airflow will dictate your high-temperature centrifugal fan selection and specifications. Scroll or hyperlink down to find Application Featured Products, Case Studies, and further application details.
Primary Industries for High-Temperature Centrifugal Fans
Many varied industries from food processing and energy, to metals, plastic, glass, paper, and pulp processing use combustion air blowers for heating and drying purposes.
High-Temperature Centrifugal Fan Applications Include:
Aluminum Furnaces
Annealing Ovens
Atmosphere Furnaces
Batch Type Furnaces
Bell Furnaces
Car Bottom Furnaces
Cover & Base Furnaces
Continuous Belt Furnaces
Continuous Furnaces
High-Temperature Exhausts
Homogenizing Furnaces
Low-Temperature Ovens
Nitriding Furnaces
Pusher Furnaces
Stress Relief Ovens & Furnaces
Roller Hearth Furnaces
Thermal Treatment/Tempering
Tip-Up Furnaces
Selecting and Specifying High-Temperature Centrifugal Fans
High-Temperature process airstreams require specially designed high-temperature centrifugal fans. Along with the Radial Paddle Wheel Fan, the Forward Curved Fan is one of the select designs that can take the heat.
Fan Models Commonly Used
Forward Curved
Backward Inclined
Paddle Wheel
High Temperature Plug Fan
Fan Arrangements
Fan Arrangements indicate how the motors mount to and drive the fans. The specification will depend on your application and the fan(s) selected. Here are two examples:
Arrangement 1 – Belt Drive with an overhung impeller. The fan and motor mount separately to a unitary base.
Arrangement 8 – Direct Drive with an overhung impeller. The fan shaft is directly coupled to the motor shaft with a flexible coupling.
Accessories & Design
Proximity to and processing of high temperatures and possibly corrosive gasses requires careful design and customization to handle the extremes.
Here are some of the accessories and features you may see in process cooling fan applications:
304/316 Stainless Steel
SSPC-SP10 bead blast surface preparation
Food-grade Teflon shaft seal
Stainless BFM fittings
Double-width housing for higher airflow capacity
Bearings and motors that are isolated from the process. Shaft seals with ceramic felt elements.
Flex Connectors to accommodate shifting during rapid temperature change
Spring Vibration Isolators to protect the fan from excessive vibration
Inlet Silencer for noise control on the fan inlet
Inlet Vane Damper, Variable Frequency Drive (VFD), Outlet Damper, or a combination for volume and pressure control
Inlet Filter or Screen to keep the airstream clean and avoid damaging the dampers
Inlet Box if space is tight for the ductwork
Vibration and temperature sensors to monitor bearing and fan health and prevent unplanned outages
Split Housing for easier maintenance access to the fan wheel and shaft
Proper installation and maintenance to ensure safe startup and operations
Featured Products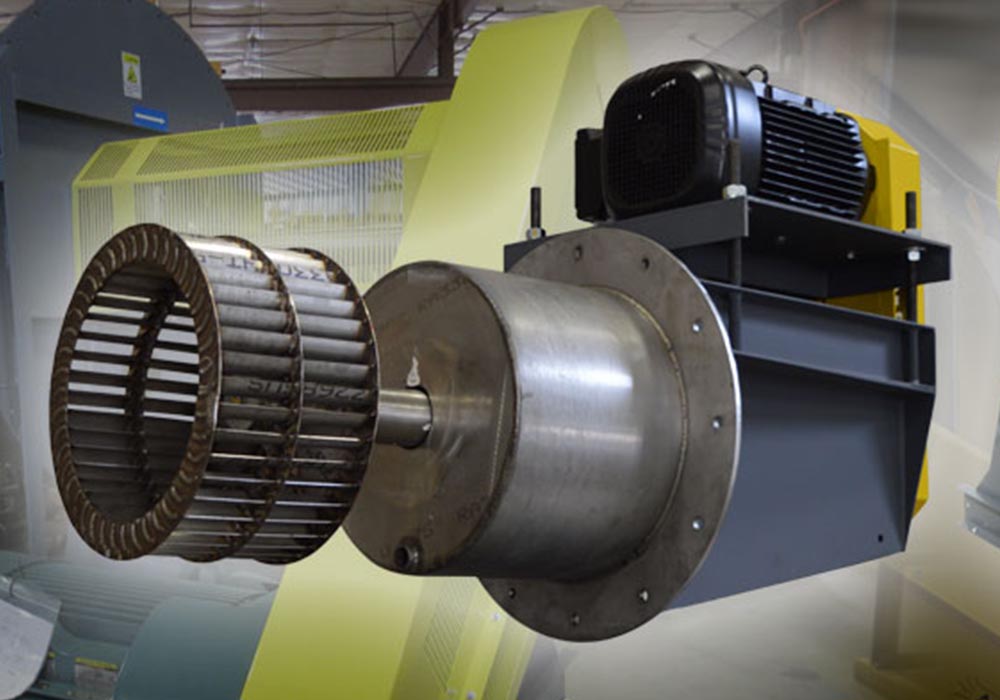 High Temperature Fans
Learn More
High Pressure Blowers
Learn More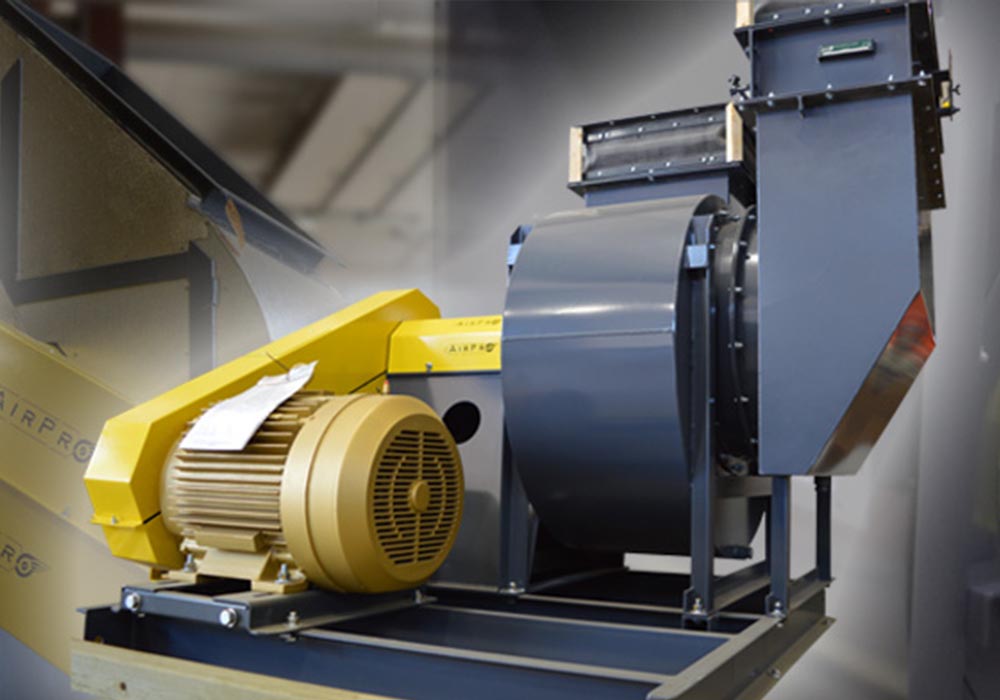 Backward Inclined Fans
Learn More
Case Studies
Talk with Our Application Engineers
If you feel overwhelmed by all this information, don't despair! We have a team of application engineers who are happy to talk with you and select the best fan for your application. You can call 715-365-3267, email [email protected], or send us your information, and one of our engineers will connect with you.
Contact Us
AirPro Fan & Blower
Connect With Us