Process Cooling
Process cooling refers to removing heat to maintain or control appropriate temperature levels in an industrial system. Nearly all manufacturing processes produce some amount of excess heat, whether through process heating or through the friction of moving machinery.
In these applications, centrifugal fans provide the essential pressures and airflow required to change the temperature of the process air or other medium or material from higher to lower. They tend to sit between other applications in the process, like a combustion burner and an SCR System, or between a rotary dryer and a cyclone separator, adding ambient air to cool the exhaust stream. Your required pressure and airflow will dictate your process cooling fan selection and specifications.
Primary Industries for Process Cooling Applications
Process cooling fan applications are found across industries. However, because they are often used to remove heat between process applications like dryers, burners, and boilers, any or all of these industries may require process cooling:
Agricultural Processing
Automotive OEM
Building Materials
Chemical Processing
Dairy Processing
Food Processing
Galvanizing Metals
Glass Manufacturing
Metals & Mining
Oil & Gas
Paint & Surface Coatings
Petrochemical Plants
Pharmaceuticals
Power Plants
Printing, Packaging & Labeling
Pulp & Paper
Rubber & Plastics
Semiconductor & Electronics
Wastewater Treatment
Process Cooling Fan Selection & Specification
Process cooling fans (blowers) most often sit outside the gas stream and inject cooling ambient air at volumes and pressures that are dictated by the specific application.
Typical Process Cooling Fan Types
Backward Curved (BCHS, BCLS, BCMS)
Backward Inclined (BIHS)
High Pressure Blowers
Plug Fan
Fan Arrangements
Fan Arrangements indicate how the motors mount to and drive the fans. The specification will depend on your application and the fan(s) selected. Here are two examples:
Arrangement 1 – Belt Drive with an overhung impeller. The fan and motor mount separately to a unitary base.
Arrangement 8 – Direct Drive with an overhung impeller. The fan shaft is directly coupled to the motor shaft with a flexible coupling.
Accessories & Design
"Pushing" ambient air for process cooling involves less wear-and-tear on the fan than dirty and hot airstreams. While ambient air may not be as hard on the fan compared to more extreme conditions, fan/system imbalance and excessive vibration can still be a problem. It's critical that fan vibration levels are monitored and addressed if they exceed recommended levels.
Proximity to high temperatures and possibly corrosive gasses may also require customizing process cooling fans for these extremes, including their temperature variations. Additionally, in many cooling applications, two fans are required, either for redundancy or for additional pressure.
Here are just some of the accessories and features you may see in process cooling fan applications:
304/316 Stainless Steel
SSPC-SP10 bead blast surface preparation
Food-grade Teflon shaft seal
Stainless BFM fittings
Double-width housing for higher airflow capacity
Bearings and motors that are isolated from the process
Shaft seals with ceramic felt elements
Flex Connectors to accommodate shifting during rapid temperature change
Spring Vibration Isolators to protect the fan from excessive vibration
Inlet Silencer for noise control on the fan inlet
Inlet Vane Damper, Variable Frequency Drive (VFD), Outlet Damper, or a combination for volume and pressure control
Inlet Filter or Screen to keep the airstream clean and avoid damaging the dampers
Inlet Box if space is limited for the ductwork
Vibration and temperature sensors to monitor bearing and fan health and prevent unplanned outages
Split Housing for easier maintenance access to the fan wheel and shaft
Proper installation and maintenance to ensure safe startup and operations
Featured Products
High Pressure Blowers
Learn More
Backward Inclined Fans
Learn More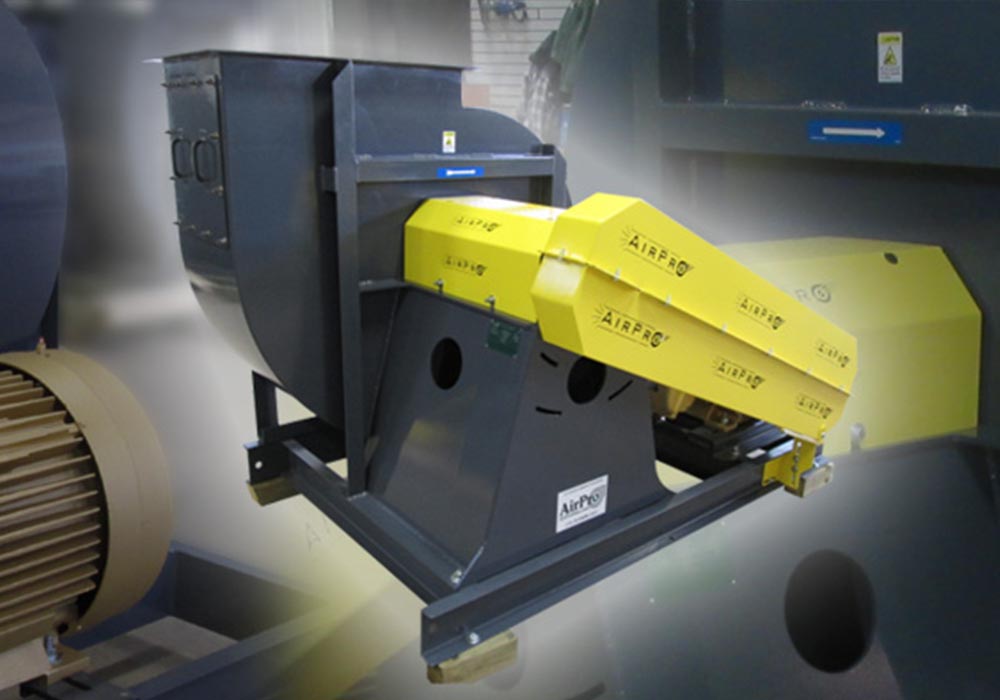 Backward Curved Fans
Learn More
Case Studies
Talk with Our Application Engineers
If you feel overwhelmed by all this information, don't despair! We have a team of application engineers who are happy to talk with you and select the best fan for your application. You can call 715-365-3267, email [email protected], or send us your information, and one of our engineers will connect with you.
Contact Us
AirPro Fan & Blower
Connect With Us