Our
Custom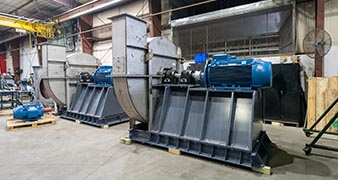 Fans
Top-Notch Custom Fans & Superb Customer Service
When you purchase a new custom-built fan or blower from AirPro, we ensure that you get the most from your investment. Aside from being value-oriented, our application engineers work with you to evaluate your fan application and recommend a custom fan to give you optimal air control, safety, and ongoing performance.
As a 100% employee-owned company, your organization can have absolute confidence when working with AirPro. Over the years, we have built strong customer relationships due to the unmatched quality of product and service that we have to offer. When working with us, you will quickly realize that our response times and customer driven innovation abilities are simply unparalleled in our industry. Best of all, our experts are always here and ready to help - whether by website chat, email or a phone call. Simply reach out and we're on it!
While application engineers are mostly commonly the first individual to reach out to us to start a custom fan conversation, we are happy to have this conversation with anyone! However, if you are an application engineer, please know that we speak your language fluently. Bring on the technical jargon! If you are not an engineer, please rest assured that we are great communicators and know how to explain complex technical details in an "easy to understand" fashion. We will be sure all information communicated is well-understood. We'll also outline key considerations in specifying a custom-built fan. To help you get prepared for our conversation, there are 4 main pieces of information we will need to know from the start.
01. Volumetric Flow Rate
02. Fan Static Pressure
03. Inlet Air Density
04. Intended Fan Duty
Regardless of your role and professional background, you may also find it helpful to check out our online fan selection tool. It gives you access to fan design details, drawings, and pricing. During business hours, you can also use this tool to chat LIVE with our application engineers!
Arrangements
Materials
Finishes
Accessories
Sizes
Pricing
You will find details about these industrial fan elements throughout this website. If you need anything not listed or have questions about how AirPro can provide your package solution, please simply submit a quote request or give us a call at 715-365-3267.
AirPro Fan & Blower
Connect With Us