Centrifugal Fans for Thermal Oxidizers
Thermal Oxidizers (TO), including Regenerative Thermal Oxidizers (RTO's), provide air pollution control through source reduction for safety, compliance, and comfort in industrial facilities and the surrounding environment. You can think of the oxider as a huge furnace, turning the hazardous bypass gasses into water vapor through combustion.
The function of the centrifugal process air fan in the oxidizer is to force or draw the bypass gases through a series of chambers that follow alternating heating and cooling patterns to break down volatile organic compounds (VOC's) and hazardous air pollutants (HAPs) before releasing the emissions into the environment in accordance with the requirements of the Environmental Protection Agency's Clean Air Act.
In addition to the main process air fan, oxidizer applications also require a combustion air blower, which you can read about on our Combustion Air Blower Application page. Your Thermal Oxidizer application environment and airflow will determine your process fan specifications.
Primary Industries for Thermal Oxidizers
Pollution control is required across many industries that produce hazardous substances or contaminants as byproducts of their operations. Common industries that employ thermal oxidizers for pollution control include:
Animal Feed
Automotive
Building Materials
Chemical Processing
Chrome Plating
Food Processing
Metal finishing
Oil & Gas
Paint & Surface Coatings
Pharmaceuticals
Printing, Packaging & Labeling
Rubber & Plastics
Semiconductor & Electronics
Wastewater Treatment
Fan Selection & Specification for Thermal Oxidizers
Because of the emission requirements, thermal oxidizers are a core function of the industrial operation, making the process air fan mission-critical to the overall production process. That means it's important to select the right fan technology.
The required air flows call for efficient industrial fans that can withstand high temperatures and corrosive gases. That makes our backward-curved BCHS BCMS, and BCLS models the top choice in many cases. These fans can achieve up to 81 percent efficiency! Additional fan technology options include the Backward Inclined (BIHS) and Radial Tipped (RTHS) designs.
We build high-efficiency, high-temp, and corrosion-resistant industrial fans & blowers specially designed for each Thermal Oxidizer application.
Fan Designs Commonly Used on Thermal Oxidizers
Backward Curved (BCHS)
Backward Inclined (BIHS)
Fan Arrangements
Thermal Oxidizers and RTOs most often use an Arrangement 8 direct-drive on the process fan. This modular pedestal design offers stability in addition to saving time and money at installation.
Accessories & Design
When it comes to design and accessories, it's all about protecting and optimizing operations, maintenance, and life of the fan and bearings.
Recommendations for Thermal Oxidizers
Variable Frequency Drives (VFDs) for additional speed control and operating efficiency
Bearing vibration and temperature sensors to monitor bearing and fan health and prevent unplanned outages
304 or 316 Stainless Steel materials of construction for highly toxic airstreams
Leak-Tight Constructionto ensure that the VOCs move all the way through the oxidizer without escaping into the plant or the atmosphere
Spark Resistance as some gas can be flammable
Aluminum-Clad Insulated Housing on the process fan in a high-temperature situation to keep the outside surface of the fan housing below 140°F to the touch for personnel safety and comfort
Final trim balance to a maximum not to exceed 0.124 in/sec filter-in at full operating speed. That means it's a fan with lower vibration, which increases the life of the fan and fan bearings
Proper installation and maintenance to ensure safe startup and operations
Featured Products
Radial Tipped Fans
Learn More
Backward Inclined Fans
Learn More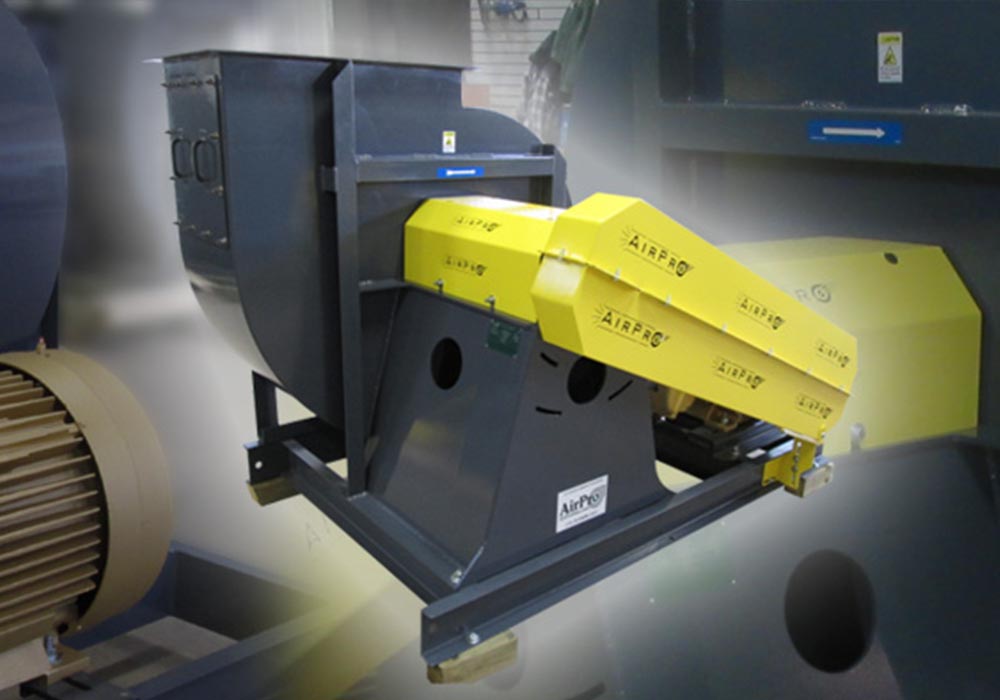 Backward Curved Fans
Learn More
Case Studies
Talk with Our Application Engineers
If you feel overwhelmed by all this information, don't despair! We have a team of application engineers who are happy to talk with you and select the best fan for your application. You can call 715-365-3267, email [email protected], or send us your information, and one of our engineers will connect with you.
Contact Us
AirPro Fan & Blower
Connect With Us