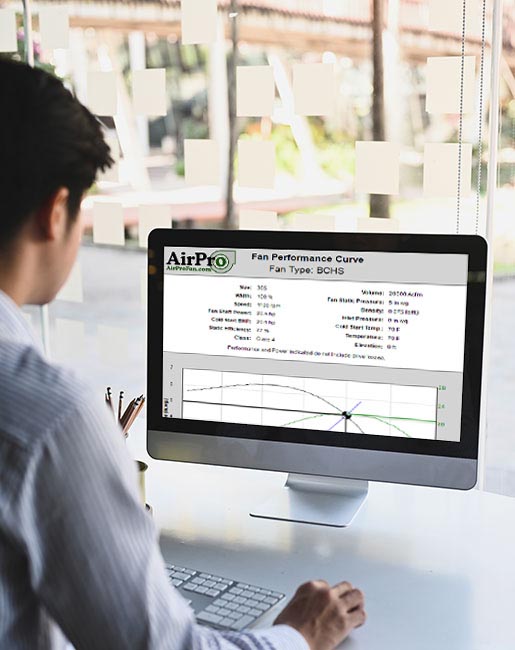 myAirpro Connect
Fan Selection & Pricing Tool
Industrial Fan Selection Tool for Engineers
Our web-based* industrial fan selection and pricing tool offers you access to:
+ Instant Budgetary Pricing
+ Dimensional Drawings
+ Performance Data (HP & Pressure Curves; Sound Data)
+ *No software download or setup required
Upon sign-up, you should receive your account information within 24 hours. We will also send you a tutorial on how to select and price a fan, and our application engineers are happy to assist you with your selection.
If you're not sure yet, perhaps the tips below will help you determine whether to proceed with our online fan selection tool or just give us a call at 715-365-3267 and get started with an application engineer.
Without getting very technical, below are a few considerations that will help you make the most informed decision with your fan or blower selection.
List Overview
The first step is to see whether you need a centrifugal blower (a.k.a. centrifugal air blower) or an axial fan. The basic difference between the two is that the centrifugal blower changes the air flow at 90° whereas the axial fan moves air parallel to its axial. If you have any any doubt about this step, consult with your centrifugal fan manufacturer.
Airflow (i.e. ACFM or SCFM)
Whichever type you select, a centrifugal air blower or axial fan, you must consider the amount and consistency of the air you want to move. Whether you need to exhaust contaminated air or move small particles, it is crucial that you chose the appropriate model with the appropriate airflow capacity.
Static pressure
Static pressure is the friction created by the moving air in the pipe or duct. The backward inclined fan and the backward curved fan are manufactured to handle high volumes of air in high static pressures. The difference between the two types is that the backward inclined fan handles less static pressure but offers lower sound levels, whereas the backward curved fan can handle almost double the static pressure.
Surroundings
Most centrifugal air blowers are selected using a standard measure, assuming standard altitude and temperature. If this standard is subject to change, be sure that you account for temperature and altitude when making your fan or blower selection. If you are in doubt, you can refer to a temperature and altitude chart in order to make the right selection.
Function
Will you be moving materials, clean air, or perhaps polluted air? Before making your selection, it is important to remember that backward curved fans are powerful but mostly used for clean air, whereas the centrifugal air blowers (i.e. Industrial Exhausters, High Pressure Blowers) can give you a wider selection of functions.
Please Note: If at any point in your centrifugal blower selection (or backward inclined fan selection) you feel unsure, you can always contact the engineering team at AirPro for professional assistance. It would be our pleasure and honor to assist you!