Material
Handling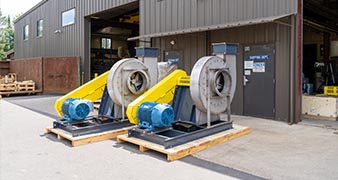 Radial Fans and Paddle Wheel Fans for Industrial Applications
Fans
Radial & Paddle Wheel Material Handling Fans
Centrifugal Radial Fans are a staple in industrial material handling applications. When customized with the appropriate specifications, they can handle all types of material matter - from small, light particles to larger, heavier materials.
Whether for safety, comfort, operating efficiency, or ongoing maintenance, these fans have an important role to play in numerous industrial applications. At AirPro, we offer two primary types of Centrifugal Radial Fans – Open Radial and Shrouded Radial.
The AirPro material-handling Open Radial Fans move not only air but also material at medium-to-high static pressures. Due to its rugged design, these heavy-duty industrial exhaust fans are able to move heavy, sticky, and abrasive materials through the airstream without compromising the integrity of the wheel.
IEPW – An open, radial blade design
IEFB – Utilizes the same design as the IEPW, but also includes a backplate. The IEFB is provided with arrangement 4, direct-drive fans in order to protect the motor from material entering the fan airstream.
IETW – starts with radial blades and includes a backplate. Gussets are added for additional support and strength. This design is used to convey and exhaust edge trim, such as paper, cardboard, and various metals.
IETX – extra heavy duty of the IETW model also used for trim removal
IERS – The Shrouded Radial Fans include radial blades with a shrouded wheel to increase efficiency. Extra support stiffeners are added for a robust material handling design.
Volume: up to 150,000 cfm
Pressure: up to 60"wg
Temperature: up to 1000°F
Static Efficiency: up to 66%
Drive: Belt & Direct
Abrasive Airstream: The already robust construction combined with abrasive resistant materials make these fans essential to systems moving abrasive materials.
Odor Control: Radial fans are used with other air pollution control equipment to remove odors. These fans are customized for different industries – wastewater & sewage treatment, paper mills, and recycling plants - just to name a few!
Other Applications: You may not need to move abrasives or eliminate odors in your application. That doesn't mean your application won't need to include a radial fan! In fact, radial fans are commonly used in more applications than we can possibly list on this page. You can learn more about other applications or talk with our engineers about a customized solution. Learn More
AirPro Fan & Blower
Connect With Us